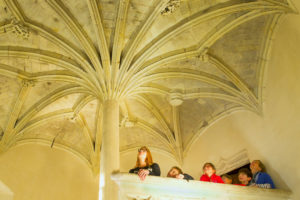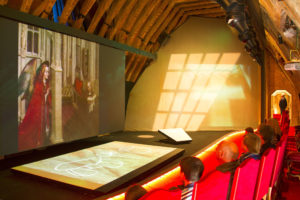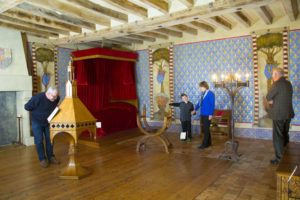 In the Château's attics, discover an amazing Animated Interior Tour!
Settle down comfortably and let yourself be told the story of the owner of the castle, King René of Anjou! You will learn all about King René's life, accompanied by the magic of sound, image and light.
You have the great opportunity to rub shoulders with the great figures of history, including Joan of Arc and Philip the Good, and be swept back through time to the Hundred Years War, the Middle Ages and the Renaissance. Finally, experience the thrill of the arts of the era, with the medley of music, painting and poetry on the agenda.
Continue your visit on the first floor.
The receptions rooms of the Château are dramatized to present a few of the themes mentioned briefly above: the Anjou Dynasty, Anjou and Europe, the Age of Chivalry and the tournaments, Courtly love and the Cross of Anjou, later to become the Cross of Lorraine!  Don't forget to visit the chapel and King René's bedroom, reconstructed from the 15th-century illuminations and various records. The decor is inspired from the modern arms of Anjou: azure background with golden fleur-de-lys, and the furniture was rebuilt.
On the first floor, a fun and educational visit is available for children of 7-12-years-old. A few selected major themes are approached in an attractive way: games, riddles, hands-on activities, models, etc. An amusing way to discover this space with all the family !